5 Ways To Celebrate Star Wars Day!
Posted by
The origin of this day was created in 1979 when Margaret Thatcher became the prime minister of the United Kingdom. An ad was placed in the London Evening News, which read "May the Fourth Be With you Maggie. Congratulations." This line resembles one of the most famous lines in the Star Wars saga, "May the Force be with you."
More than 35-years later, May 4 is now bigger than ever with cities and fans celebrating the story and characters of one of the most beloved movie franchises of all-time. Here are five ways you can celebrate Star Wars Day.
Dress up like your favorite Star Wars character
Have a movie marathon with friends
Attend a Star Wars themed party in your community
Visit a children's hospital or volunteer for a childrens charity group, while also wearing Star Wars themed attire
Host your own Star Wars themed party, which could also include watching one of the films
Star Wars is quickly gaining more momentum as the next film, 'Star Wars VII: The Force Awakens' is set to premiere in theaters on Dec. 18.
This will be the seventh movie in the series with two more scheduled before the end of the decade. 
Original Trilogy
Star Wars IV: A New Hope (May 25, 1977)
Star Wars V: The Empire Strikes Back (May 21, 1980)
Star Wars VI: Return of the Jedi (May 25, 1983)
Prequel Trilogy
Star Wars I: The Phantom Menace (May 19, 1999)
Star Wars II: Attack of the Clones (May 16, 2002)
Star Wars III: Revenge of the Sith (May 19, 2005)
Sequel Trilogy
Star Wars VII: The Force Awakens (December 18, 2015)
Star Wars VIII: TBA (May 26, 2017)
Star Wars IX: TBA (2019)
What is your favorite Star Wars movie of all-time?
NPR News
A long time ago, in a place far away, a manuscript was created with an enigmatic figure who looks a great deal like a certain little — and yet powerful — green guy from the Star...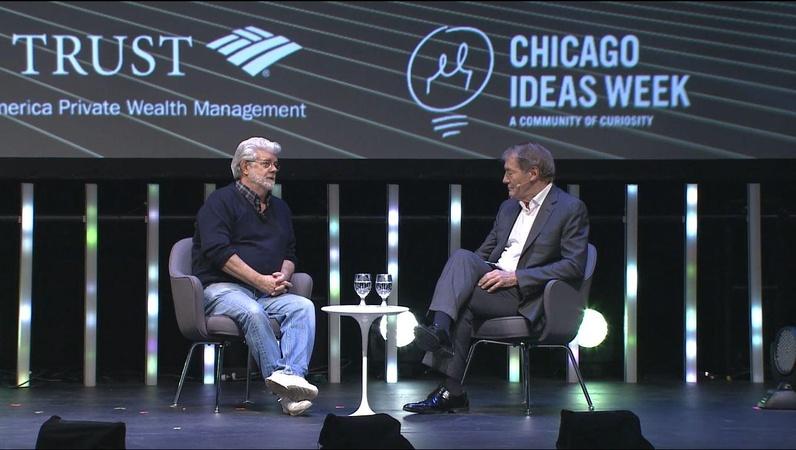 Charlie Rose The Week
The "Star Wars" auteur talks about his plans for a museum of narrative art.