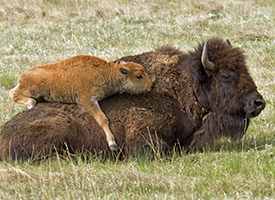 May 2018 | Momma, mueter, oum, madre, tina, grandmother, nonna, abuela, savta, bibi, Cow, queen, doe, mare, hen, jenny, vixen, nanny, sow, ewe…
What do all of those words have in common?
They're all mom names!

Yay Mom!
May is when we celebrate Mother's Day in the United States. The second Sunday in May was established as a national holiday in 1914. When we think about moms in the natural world, we often think about cute, fuzzy babies with big eyes wobbling at mom's side. Right now, in Custer State Park the cinnamon-colored, bison calves are enjoying the warming weather. Usually we don't see many baby animals in South Dakota until after Mother's Day: white-tailed deer and mule deer fawns, elk calves, and big horn sheep lambs. Prairie dogs pups arrive in May but we don't see them out of their burrows until July. What other animals can you think of that have babies in the spring or even later in the summer? Frogs? Snakes? Salamanders? Dragonflies? Owls? Fish?

Cone Mom
For your cone mom you'll need to gather pine cones and other materials that might be around like twigs, grasses, leaves, seeds, pebbles, or whatever catches your fancy. Using a pine cone as a body, add the items you found as body parts and accessories to create a cone person. Make a whole family to celebrate Mom!

Rainbow bouquet
Pink and white carnations are the flowers usually associated with Mother's Day, but you can make a rainbow bouquet. You will need a few white carnations, as many carnations as you want to make for your bouquet. You'll also need several cups to hold water and different colors of food coloring. Fill each cup half full of water and add 20-30 drops of food coloring. Remember you can mix food coloring to make new colors. Have an adult help you trim each carnation so that it has a fresh, angled cut at the bottom of the stem. Place each carnation into a different cup.
Write or draw your predictions for each carnation:
Will the flowers soak up the food coloring?
Will all of the colors soak into the flowers or just some of them?
Will one color soak into a flower before the others?
If you mixed two different colors, will you be able to see two different colors in the flower?
Check your carnations after 24 hours and see if any have changed color. Were any of your predictions accurate? What do you think would happen if you used pink carnations instead of white ones?
Tie a nice string around your carnation bouquet to give to your mom, grandmom, aunt, or a lady who is special to you.

Flower pots
Another gift you can make is to take a nature walk and find items like leaves, or seeds, or small rocks, or flowers. You'll need to borrow an old flower pot and some strong glue. Glue the items you found on your nature walk to the flower pot to make a spring gift.
Moms, and grandmoms, and aunts always appreciate a "thank you" for their hard work.

Mama duck
Shake the winter out of your tailfeathers with this ditty, sung to the tune of "The Wheels on the Bus." Dance along as you sing. What other verses can you come up with?

All the Little Ducks go Upside Down
All the little ducks go upside down,
upside down, upside down,
All the little ducks go upside down
as they dabble at the bottom of the pond.
All their little beaks go snap, snap, snap,
snap, snap, snap, snap, snap, snap,
All their little beaks go snap, snap, snap,
as they dabble at the bottom of the pond.
All their little tails go wiggle, waggle, wiggle,
wiggle, waggle, wiggle, wiggle, waggle, wiggle,
All their little tails go wiggle, waggle, wiggle,
as they dabble at the bottom of the pond.
Take Mom out(side)
Mom deserves a day out. Take her to your local state park! Time spent outside has been proven to reduce stress and increase overall well-being. Can a card to that?
Take the family out for a hike, bike ride, or fishing expedition. Or, maybe you just let her rest in the sun while you go do your own thing somewhere else in the park. She probably won't mind.
Be sure to visit the parks on Open House and Free Fishing Weekend, which is coming up May 18-20. That weekend, no entrance fees are charged in the state parks and fishing licenses aren't required. And if you've got a fourth grader in the family, be watching their backpacks for their Go Fourth certificate, which is good for a free family day pass to any state park. They are being sent out through the schools the first part of May.

This month's activities brought to you by
Laci Prucinsky, Custer State Park
Laci is a naturalist at Custer State Park. May is a busy month for Laci. First, she acts as a mother hen to train all the new seasonal naturalists. Next, she gets all the summer programming started, including the big seaon kick-off celebration held May 18-20. Then, the summer really starts to take off. Good thing she works outdoors surrounded by all that stress-reducing nature!