---
Dakota Heroes: South Dakota's Role in World War II - South Dakota played an active role in World War II, from the armed services to housing POWs to raising crops to training soldiers. In one way or another, everyone in the state was affected. More than 10 percent of South Dakota's population. An estimated 68,000 men and women enlisted in the armed services. Some 2,000 gave their lives. SDPB Radio looks at the state's role in this global conflict with a one-hour documentary, DAKOTA HEROES.
---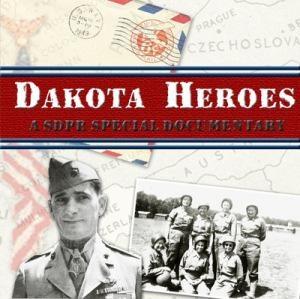 SDPB
Listen to Dakota Heroes
The program covers a variety of fascinating topics, including:
How the war changed South Dakota forever.
What the state was like before Pearl Harbor.
The role of women on the homefront and on the front lines.
The bombing of Tokyo in 1942.
The Army radio school in Sioux Falls, the airbase in Rapid City, and other training sites.
Scrap drives, rationing, and victory gardens.
The attacks on the American prairies.
Those who opposed the war.
Lakota Code Talkers.
The homefront is remembered in photography.
George McGovern's involvement in the European air war.
South Dakota's connection to the first atom bomb.
First-person stories and more.
---
FAST FACTS
In 1941, South Dakota had an estimated 613,000 people. Some 68,000, or 11 percent, enlisted during World War II.

The USS South Dakota, a battleship, was south of Pearl Harbor on maneuvers on Dec. 7, 1941, thus escaping damage in the surprise Japanese attack on the U.S. base.

E.O. Lawrence, who helped develop the A-bomb, also is credited with starting South Dakota Public Radio.

South Dakota's World War II Memorial weighs in at two tons (4,000 pounds).