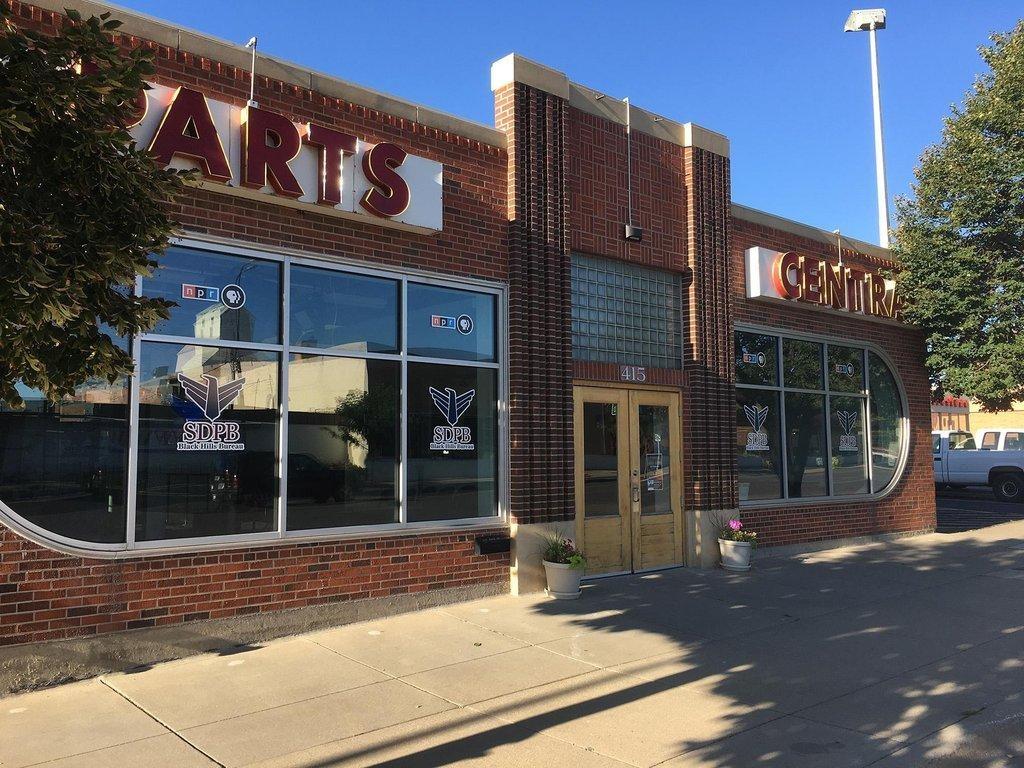 The SDPB Black Hills Studio serves as a reporting and storytelling production center for original media content created in the Black Hills. It also serves as a public gathering space for public discussions, program tapings, premieres, and other events.
The Black Hills are rich in South Dakota culture and history. SDPB's Black Hills Studio is uniquely positioned to gather the facts and tell the stories of the region, while also expanding community and audience engagement in Rapid City and beyond. The station allows broadcasts of SDPB's statewide programs from Rapid City and will also support smaller-scale live and pre-recorded television programming and digital-first productions for SDPB.org.
SDPB's Black Hills Studio is located in the historic Parts Central Building, 415 Main Street in downtown Rapid City, (one-half block East of 5th).
If you are interested in supporting SDPB's work in the Black Hills Studio click here to make your commitment today!
SDPB • 415 Main Street • Rapid City, SD 57701

SDPB thanks the following donors to the Black Hills Studio Project
$25,000 - $50,000
Black Hills Surgical Hospital
Tim Dougherty and Karen Schreier
Ashok and Kaushalya Kumar
South Dakota Community Foundation
$10,000 - $24,999
Marloe and Reuben Bareis
Black Hills Area Community Foundation
Patricia A. Fish
Carolyn and Peter Mazzella
Charles and Kay Riter
John T. Vucurevich Foundation
Anonymous
$5,000 - $9,999
John and Yvonne Adrion
David and Mary Boyer
Barb and Harry Christianson
Golden West Telecommunications
Doyle Estes and Kathryn Johnson
Tom and Carol Graslie
Karen and Richard Latuchie
Liz and Mike Manning
Linda and Robert Meyer
Dan and Janelle Toman
$2,500 - $4,999
Sen. Stan Adelstein (ret.) & Lynda Clark Adelstein
John and Anne Barlow
Black Hills Federal Credit Union
Bill Casper
Cindy and Craig Christianson
Kathy and Mike DeMersseman
Dream Design International
Leo and Kara Flynn
Gunderson, Palmer, Nelson & Ashmore, LLC
Judith and Stephen Haas
Brian D. Hagg
Tom and Maxine Harsch
William J. Howard
Kamalynn Hurd & family
L.B. Lane Family Foundation
Brad and Carol Johnson
Janet M. Kahler
Ketel Thorstenson, LLP
Kitty Kinsman and Steve Zellmer
Andy and Barb Knight
Janice and Roger Knutsen
Dan and Tracy Leikvold
Thomas and Jeanne Manzer
Karen N. Miller
Karen and Sam Mortimer
​​Tom Pagel
Tamara Pier
Catherine Polley
Deanne and Glen Reaser
Erwin and Joan Reimann
Reptile Gardens
RESPEC
Karen and Rand Schleusener
Leonard Wormstadt Memorial
Or contact:
Carol Johnson, West River Major Giving & Donor Engagement Officer
carol.johnson@sdpb.org / 605-880-5094